How Carrot Seed Makes our Work easier
7 Minutes
posted on May 7th 2020
Our kit for digital product development accelerates the development of every web, mobile or desktop app. Internally we've been using it for some time already. This is how it helps us on a daily basis.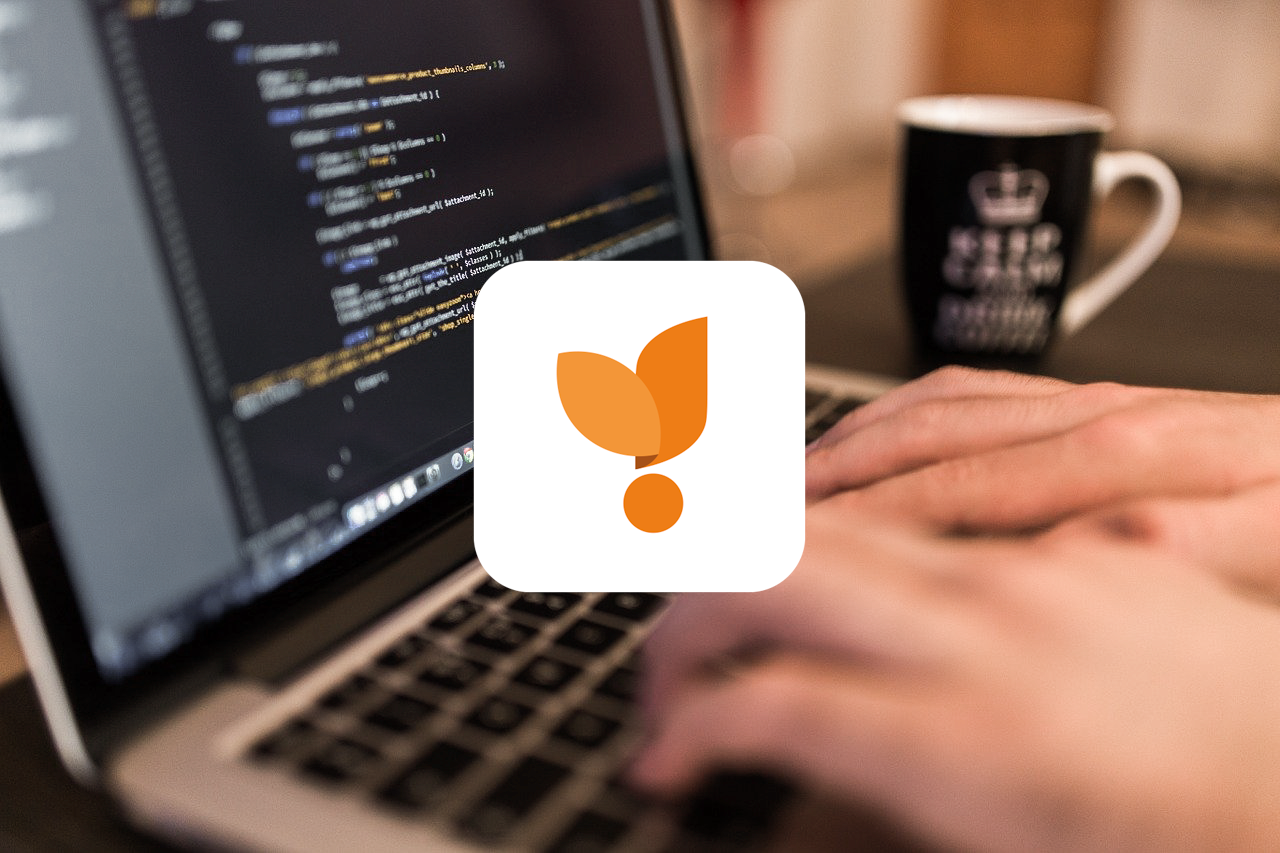 Carrot Seed , our brand new digital product development kit, will soon be available as a preview release. It is the perfect starting point for all software developers to give themselves a head start in developing their next own digital product. Regardless of whether it's a web, mobile or desktop app and of course completely customizable for your needs. How can we say that with certainty? For two reasons.
First, we have been working on Carrot Seed for years. Over thirteen years of development experience and more than a hundred technologies are combined in it. Second, we ourselves use Carrot Seed internally for our own projects and for contract work, enjoying all the benefits it brings. Benefits that we are now making available to everyone. An overview:
1. Quick start into the next project
At the beginning of a software project, you typically spend a lot of time researching, selecting and setting up hundreds of libraries and frameworks. After all, you need a stable, powerful and scalable foundation on which to build your digital product.
For Carrot Seed, we have put together a core set of libraries and frameworks that can be found in almost every SaaS system. We've connected them smartly, creating a foundation that saves us all the preliminary work for each project.
Instead of spending weeks on research and preparation, as we did before, we can start dealing with the business logic of our customers from the very first sprint. This saves us time and them valuable budget.
2. Prefabricated features
Many apps - whether on smartphones, in the browser or on the desktop - need similar features. Account management, payment, multiple languages, admin interfaces and more. Before Carrot Seed we had to integrate and test them anew every time.
Now most of the common features are part of our foundation and if we need them, we can integrate them in no time. Ready-made with Carrot Seed and available for every project immediately:
Proven open source libraries
Account management
Payment system
Multi-language support
Admin interfaces
GDPR conformity
Product website with modern CMS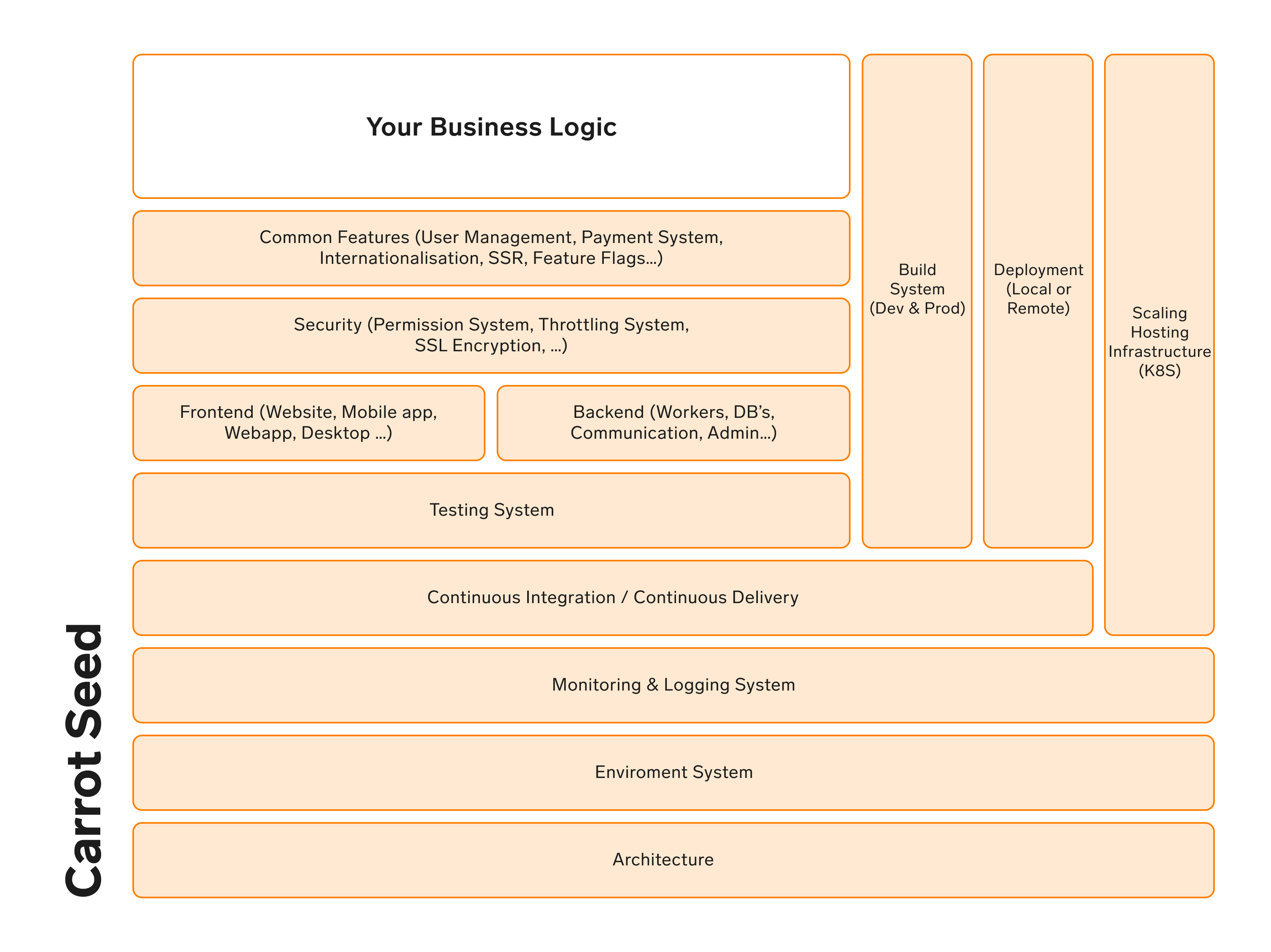 3. Milestones in record time
A quick start to a project also means earlier results. Before Carrot Seed, it took us weeks to get the first testable results. Now we can deliver it with the first sprint.
This helps not only us, but above all our customers. They can immediately test the first version of their newly developed digital product with their users, and thus determine if they want to change direction at an early stage. The agile way of working enables us to respond quickly and flexibly to changing requirements.
4. Head start by design
In addition to the head start we have in development, Carrot Seed gives us a design advantage. Besides the technical features, we can rely on a ready-made design system that is perfectly adapted to the needs of digital product development.
Our design system is easily reproduced and can be modified to suit every idea. Colours, fonts, spacing ... briefly, we can update the entire look and feel of our products within no time at all. This saves time and ensures that everything not only works brilliantly, but also looks dazzling.
We have also prepared some prefabricated components in Carrot Seed. Our development team can always use them without having to spend time searching for the right spacing and font sizes. This means less time for styling and more time for business logic.
5. Automatic tests
We work with iterative processes and moving targets. Ergo it was often a great effort for us to ensure the quality of the entire system. After all, things are constantly changing and if they are not tested in time, the whole system may break down. Sometimes even only after users have used the product.
But we could hardly test everything by hand. In the course of development teams change the source code dozens of times a day. If they have to test every change manually, they soon get to do nothing else. With Carrot Seed we have a ready-made alternative at hand: automatic testing (unit, integration and e2e tests) is already integrated.
During the development of Carrot Seed, we integrated an Automated Testing System that is executed every time we make a change to the source code by the Continuous Integration System (CI). If we miss something or even add a bug, it tells us about it. The result: top quality and top speed in one.
6. Updates with one command
We don't develop a software once and never touch it again afterwards. The digital environment is constantly evolving and if you don't keep your software up to date, it may not work as it should on new browsers and smartphones. The UX looks old-fashioned, performance is dwindling and, worst case scenario, security breaches occur.
The problem: keeping every project up to date. With hundreds of libraries and frameworks per project, updates quickly became costly, complex and expensive. Carrot Seed solves this problem.
We regularly update all dependencies and libraries in Carrot Seed and resolve all breaking changes at the same time. A project based on Carrot Seed can then be upgraded to the latest version with a single command, and thus gets the latest versions of all dependencies and libraries. The automatic test system then ensures that everything in the project source code still works as before. This saves us time and reduces costs on the customer side.
Benefits for all We saved the best for last. Now that Carrot Seed is no longer only used internally, everyone can enjoy these benefits. Quick start in minutes, ready-made commonly used features, automated testing, a completely customizable source code and faster development progress than ever before are now available to everyone.
And of course the updates. With Carrot Seed, all you need to do is regularly download the latest version and you can keep all the building blocks of your web, mobile or desktop app up to date with a single command. No matter how many components you use from Carrot Seed and whether you have completely adapted and changed it.
You want to benefit from the advantages of Carrot Seed right now? Then sign up for the preview release. If you want more technical details, take a look at the landing page of Carrot Seed or write us.