Dignity in Old Age - A Talk with our Customer DigniSens
9 Minutes
posted on March 25th 2021
What do our friends at DigniSens? How can you digitize diapers? And how were we and Carrot Seed able to help them on their way? Everything in our interview with co-founder Werner Lamprecht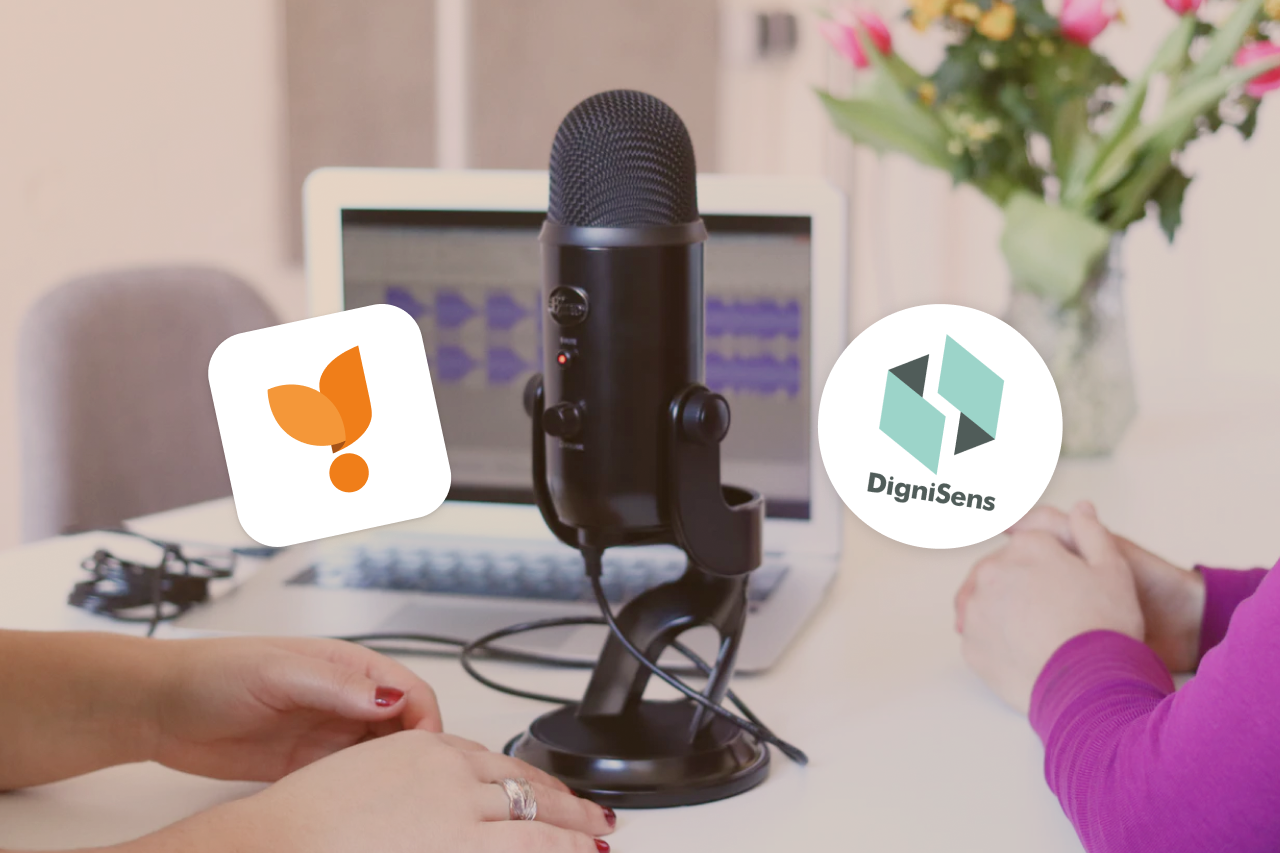 Can you tell us a little bit about DigniSens ? What do you do?
We have a vision: "Dignity in old age". We develop digital assistance systems that support both people who require care and care professionals. Our goal is to revolutionize the nursing sector through innovative solutions in respect to technology and - beginning with our first product "ASCA 1" - to define a new "state of the art".
What exactly is ASCA 1, the product you are working on?
Our product has two use cases. Firstly, the incontinence episode detection, meaning, "When is a nursing diaper stained with stool or urine?" Secondly, distinctive movement detection. In this case, ASCA 1 detects when a person moves out of bed or stands up. We can send appropriate notifications to the caregiver.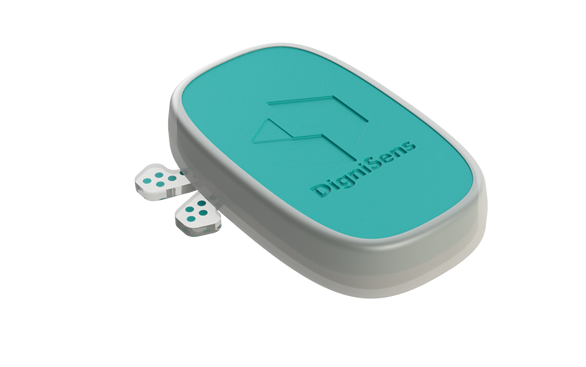 Sensor ASCA 1 (Source: www.dignisens.com)
Can you give me a brief, rough explanation of how DigniSens works? That is, how sensors and app work together?
It's best to start "at the bottom." We have our sensor device, a small, battery-powered, 3x5 cm device with various sensors inside. It attaches to the outside of the diaper so it doesn't come in contact with body fluids, and is reusable. The data from the sensors is sent from the Bluetooth Low Energy chip inside to a Bluetooth receiver in the room.
This data is forwarded to a central location in the nursing home, where it is converted into their local network. From there, all the data is sent on to our cloud system, where it's analysed. When these algorithms capture a certain sequence of sensor data, an event is generated - for example, an incontinence episode - and made available to the nursing staff. Directly in the browser front-end, on the smartphone, via call systems or even via e-mail or SMS.
What was the biggest problem you had with DigniSens, the biggest hurdle you had to overcome so far?
The biggest problem is that it's a broad field with a lot of different small technologies that you would actually have to learn about all of them.
And in the next step, the concrete implementation. That's a huge hurdle - and also a huge workload - and there remains a risk. It's possible that you get into a tech stack, but don't consult an expert, and then you realize that maybe that wasn't the right thing to do, and that there's some small detail that ultimately prevents you from achieving your goal in the best possible way. Then you actually have to start all over again.
That danger disappeared when we started working with Carrot & Company, because they have already implemented many projects with the systems and the technology stack they use.
"This change from 'developing it ourselves' to 'calling in service providers' was ultimately a very good decision."
Why did you choose Carrot Seed and why did you choose us? And did you first try to develop it with a different approach?
In the beginning we wanted to develop internally. But we soon realized that what we were doing could not be implemented as a normal wellness device. We had to comply with all medical product standards, which meant that the scope and development effort increased extremely.
We could no longer implement it on our own, so we turned more towards the documentation and the whole standards side internally and decided to outsource the whole software package.
This change from "developing it ourselves" to "calling in service providers" was ultimately a very good decision. We are a relatively young, inexperienced team in the field and even if the system seems quite straightforward - simple user administration and a simple screen to display events - the underlying technology is much bigger and more complex than what is provided to the end users. Test systems, dev ops to make everything easy to deploy, and so on.
So we are very happy that we have found a competent partner with a lot of experience. With the partner on the one hand and Carrot Seed on the other, the whole basic system was up and running in no time.
Without Carrot Seed, without working with us, how long would it have taken to get DigniSens to its current state?
We wouldn't have had the capacity to implement it. We would've had to hire developers first. Depending on their level, we would have needed an additional six months to get it ready for the market. It was the question of the entire architecture, the entire basic system of DigniSens. For something like this, you need very experienced developers, and as we know, it is currently quite difficult to find them. That's why it makes perfect sense to turn to a competent partner like Carrot & Company.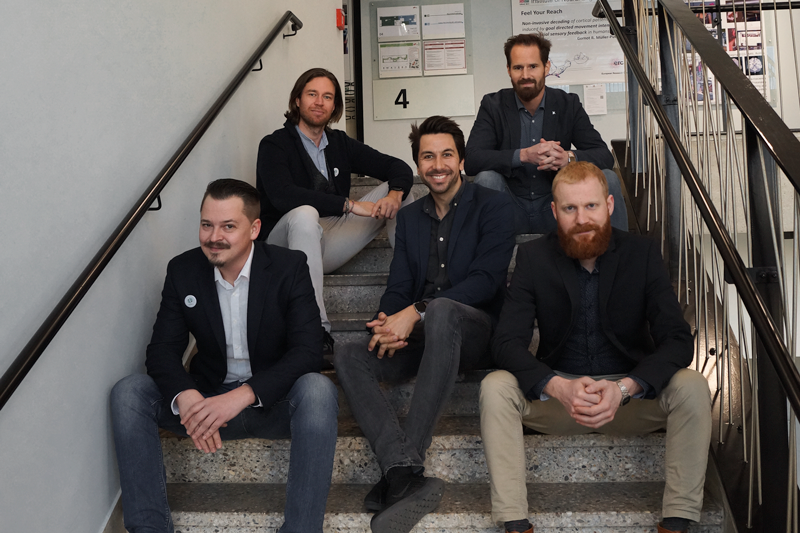 DigniSens Team - from left to right Simon Werba, Manuel Rainer, Stefan Ponsold, Elmar Deligianni, Werner Lamprecht(Source: www.dignisens.com)
How long did it take with the collaboration until you had the first prototype?
That was really very fast. Within two months we had the first version to show. Of course, not with a great configuration tool behind it yet, but in a way that we could show simple events to users.
We worked together on the product and the software behind it. How was the experience for you to work together with us on it?
Very bad.
"From our side it was little effort and the results were great."
Okay, I'll pass it on like this.
Pass it on directly! (laughs) No, in the end it was like a development team. I, or DigniSens, was the product owner, and together with Carrot & Company we defined what we wanted to have. So: What should work in what way? Where is something displayed? Where is what set? And then you guys took care of implementing that. In weekly meetings, we agreed on what would happen in the next week and also briefly discussed what had happened in the previous week. From our side it was little effort and the results were great.
We also supported you in terms of design. How did that go?
We had thought about how we'd like to have it. Karin then passed it on to your design team and they looked at it again, analysed it and presented a new version. We had the choice of using our design or the one that Carrot & Company had developed. And of course we decided to go with your version, because we haven't dealt with UX in depth yet.
"I think you can be quite excited about what our next product will be."
Would you recommend Carrot Seed or the collaboration with Carrot & Company?
Yes, even for startups that don't want Carrot & Company to implement all or part of the project. They could also go the consulting route. Especially startups without a focus on software development. You can simply save a lot of time with the whole technology stack.
It's the same issue with Carrot Seed. By setting up the basic structure - user management, role management and so on - Carrot Seed saves a lot of time. This makes it cheaper to implement. With and without the help of Carrot & Company.
What are your next steps and what can we expect in the near future?
We are still in the process of getting the product "ready" for the market. This is our first baby, but we are already developing more products in the area of "support for care recipients and nurses". And I think you can be quite excited about what the next product will be.
Do you want to work with us and reap all the benefits of Carrot Seed SaaS Kit for you product?